"Bitcoin has emerged as the institutional safe-haven asset," MicroStrategy Co-Founder @michael_saylor says. "In the modern era, cash is becoming a liability because the money supply is expanding at 15% and the purchasing power of the cash keeps degrading." Full interview: https://t.co/a6Lgt8GEcL
598
2,3K
Amsterdam overtook London as Europe's largest share trading center in after Brexit saw about half of the U.K. capital's trading volumes move to the EU, according to FT https://t.co/GQPHAKq1F1
492
943
The burden of burnout should not fall on individuals. It's a major organizational issue — and leaders need to treat it that way. https://t.co/juSrCBgQ8l
305
558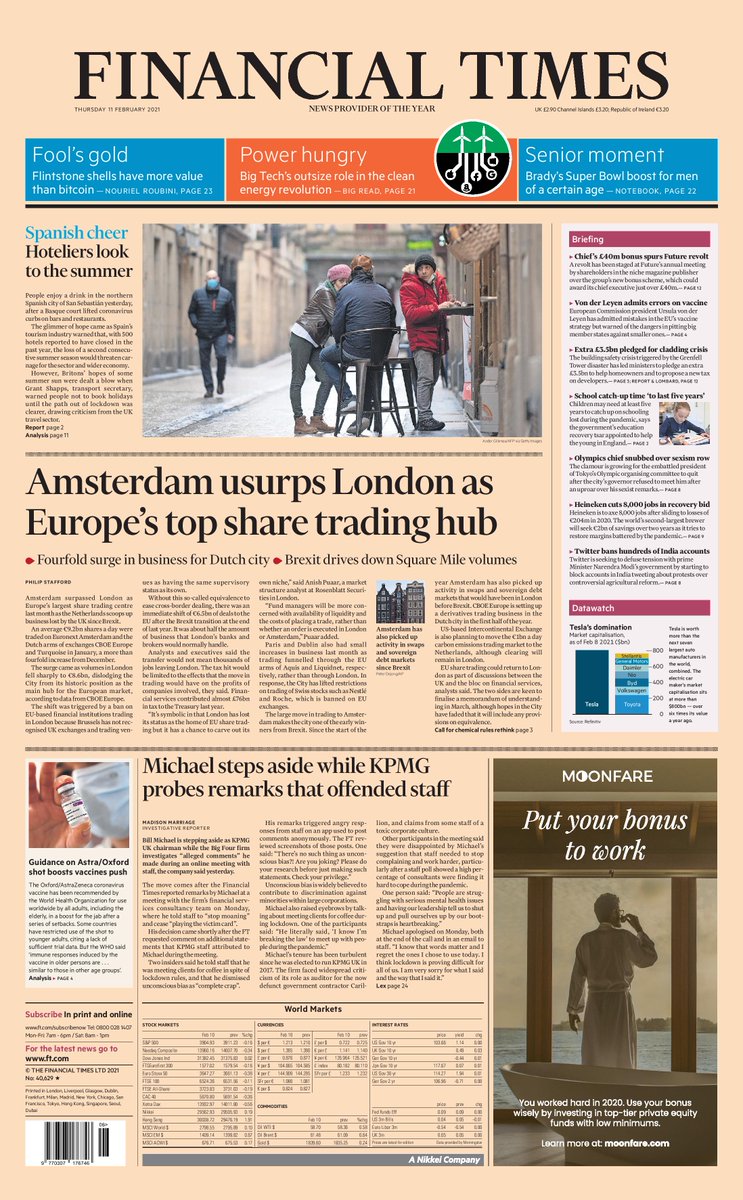 340
522
Here's a roundup of some of the best lessons learned over the course of the pandemic on how to make working from home work better. https://t.co/ci5SlsrZ3J
236
539
Twitter CEO Jack Dorsey said helping users make money from their followers is a key part of the company's effort to build subscription products and diversify revenue https://t.co/pvN77utofi
119
458
A French nun, believed to be the world's second-oldest person, has beaten Covid-19 — days before her 117th birthday. Sister André, born Lucile Randon, tested positive for the virus in mid-January in the city of Toulon, French media reports. But just three weeks later, doctors say she has recovered. "I didn't even realize I had it," she told French newspaper Var-Matin. Link in bio for more.
650
40,1K
Are IG "influencers" worth it? How to deny the ask?
Since pre-launching until now, there have been tons of self claimed influencers who DMed me asking for collaborations. Using influencer is a nice marketing tactic but honestly these self claimed ones are just ruining the idea. I can't believe people who have about 2000 followers or lower have the nerves to ask for "free" items to "promote" on their platforms. My products are not even expensive, they are less than CAD$20/each. At this point, I really don't know how to decline their "offer" nicely anymore. How should I reply to their DM and say something similar to "F*k you, pay it yourself?"
164
202
Send Help: I've Ranked #1 Organically but Have Low Clicks
I've maintained the #1 search position for one of my keyprhases for the last year consistently (1.1 in Google Search Console), but I still have a low CTR of 2.1%. My keyprhase has low volume which I'm ok with, but I'm worried why the CTR is so low. I'm ranking for "city web design", so it's not some obscure keyword. City is obviously replaced with my actual city. This is an SEO nightmare. I rank well organically, but get little to no clicks... Does anyone have experience with this?
33
28
A West Texas judge has a word of caution for your next Zoom meeting: always paws to check fur filters. Judge Roy Ferguson's warning comes after an attorney accidentally joined a virtual court hearing while using a filter that made him appear like a fluffy white kitten. "I'm here live. I'm not a cat," said Presidio County Attorney Rod Ponton, as his office struggled to turn it off. Watch the video at the link in bio. 📷: 394th Judicial District Court of Texas
442
24,9K
Looking to start a phone/tech repair business in my small town
Hey guys. I've been a phone/computer tech for a little over 5 years with two different companies. With where I live, there is only one location nearest me which is about 20 to 30 miles away. I work for this repair shop as a store manager (which I'm not going to disclose) and I'm looking for reach out to my local community and town where I live to help with repairs and to save them time and cost of gas in driving. I also have neighboring towns that are also populated that are even further from a repair shop, like upwards of 50 to 70 miles away. As of now this is just an idea, but I'd like to make it a reality if possible by starting with mail in repairs, then progressing to a store front in my area as I work and gain more of a client base and volume. All I'm looking for is a name and if this would be an idea, even with existing competition. What would you do if you were in my situation. There's not other competitive companies with my zip code. Only the ones that are over 20 miles away.
19
8
Elon Musk is arguably clean tech's most well-known ambassador. That makes his $1.5 billion Bitcoin purchase a bit, well, weird. Bitcoin mining is responsible for an estimated 37 million tons of carbon dioxide a year. That gives it a carbon footprint as big as New Zealand's, writes bloombergopinion's Lionel Laurent. To make matters worse, almost half of the world's Bitcoin mining capacity is situated in southwest China, where power is cheap, less taxed and supplied by coal-fired plants. Bitcoin enthusiasts defend the cryptocurrency's emissions, arguing that the share of renewables will grow. But their arguments ring hollow when you consider the other costs of mining. Tap the link in our bio to read more.
617
22,9K
I'm a business banker at a large bank, ask me anything.
I've been working in business banking for a few years and have interacted with 1000s of business owners. I've seen just about everything, from disputes in small family businesses, to individuals scaling a start up into a 10 figure business in 3 years, to businesses growing too fast, to some of the oddest niche businesses. 2020 was my busiest year by far. In the month of April alone, I literally met/spoke with over 300 business owners ( due to PPP and SBA loans). ​ Feel free to ask me anything
22
4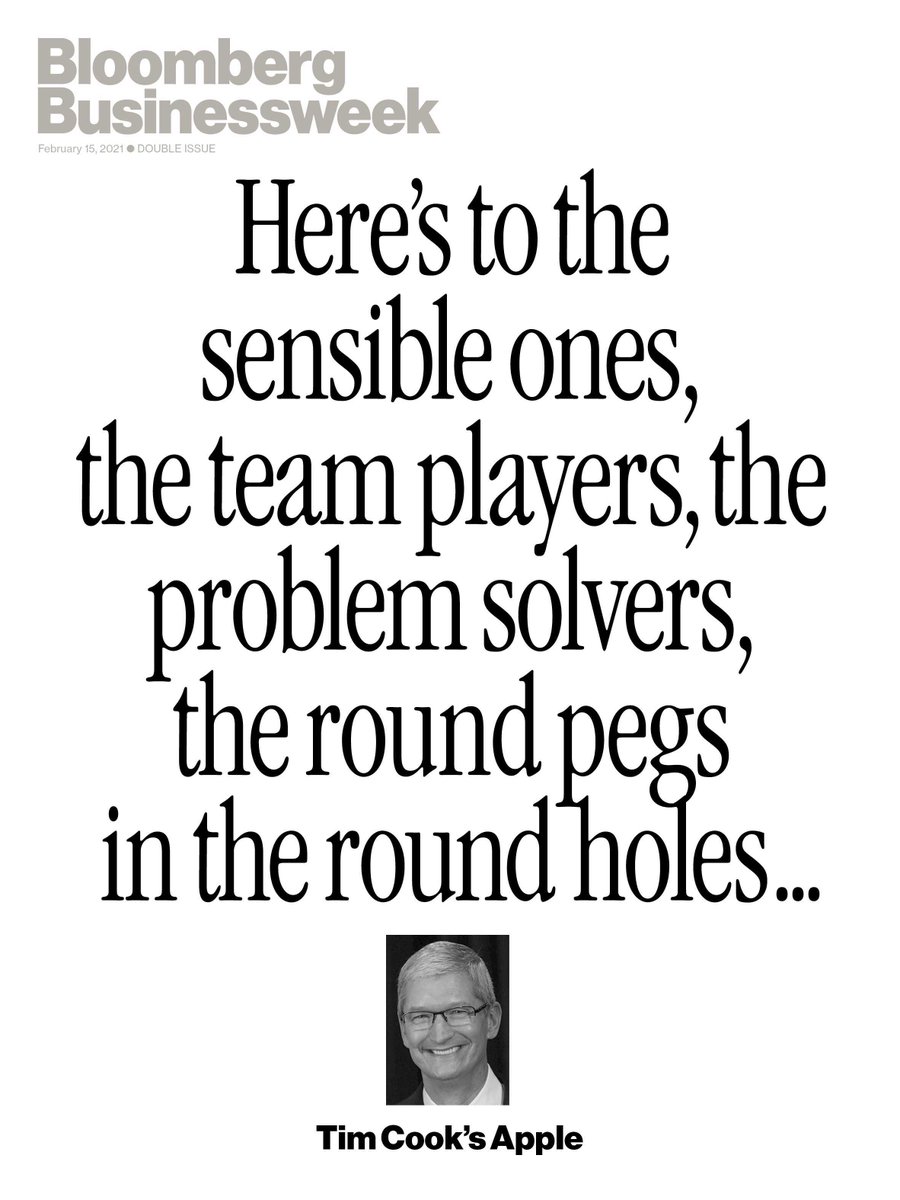 113
384
Even before fund giants came calling, Ruby Lu spotted a gem in Chinese video-startup Kuaishou. Seven years later, her early investment in the firm has turned into a multibillion-dollar windfall. It's just one of the string of hits from Lu, 50, the founder of Atypical Ventures. She belongs to an unusual group of female investors who have risen to the forefront of China's venture-capital world, seeking to groom China's next generation of tech darlings. Part of her strategy is to identify talented engineers and ensuring they have the right mindset. "You have to endure more pain than the usual person. There is a methodology in building a company from scratch," she says. Click the link in bio to read the rest of her business advice.
239
19,8K