GameStop (GME) halted at $72.80
Looks like the squeeze is really happening. Shout out to all the people in this sub that clowned me for having GME. Citron needs to investigated for possible collusion with firms for market manipulation. They did the same damn thing with PLTR. They find stocks with momentum and then send out a hit piece just so they can get a better price to buy in. Smh
1,9K
4,7K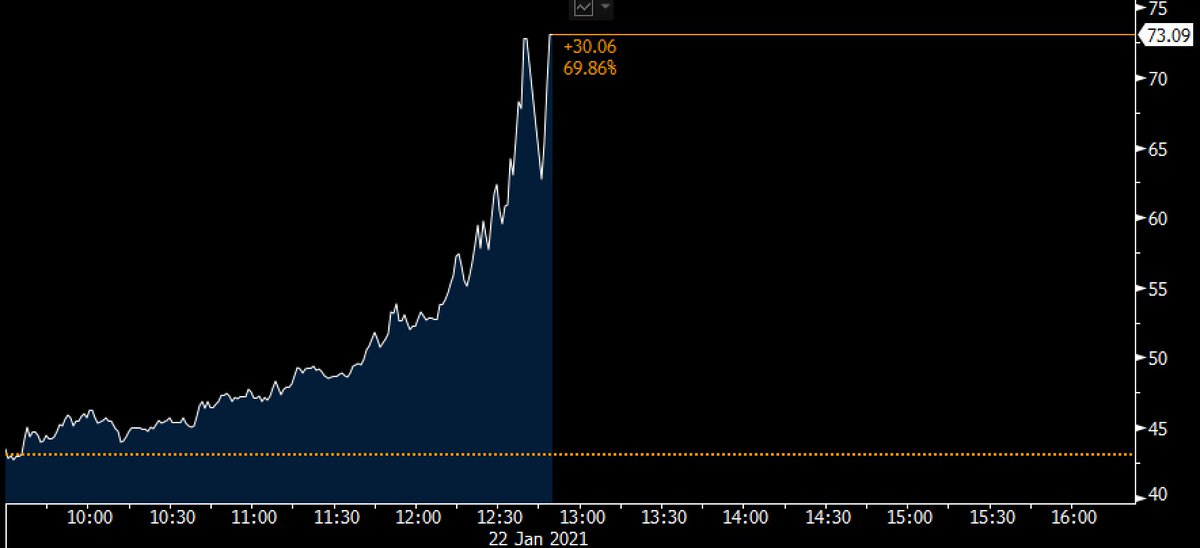 953
4,5K
A paralyzed mouse (L) and a formerly paralyzed one are seen in a lab at Ruhr University in Bochum, Germany, January 21, 2021. Researchers have enabled mice paralyzed after spinal cord injuries to walk again, re-establishing a neural link until now considered irreparable in mammals by using a designer protein injected into the brain. Researchers stimulated the paralyzed mice's nerve cells to regenerate with the hyper-interleukin-6 protein. Rodents that received the treatment started walking after two to three weeks, they said. 📷 Leon Kuegeler #science #mouse #reuters #reutersphotos
832
35,6K
"The reality of being a third country has come home to roost" Mairead McGuinness, European commissioner for financial services, warns "change is coming" for the City of London after Brexit, with no fixed timeline for a decision on equivalence https://t.co/y8In308x3j https://t.co/Z2qyWbsws7
716
1,4K
Elon Musk said he plans to donate $100 million towards a prize for the best carbon capture technology https://t.co/Ic0eFTf9sH
312
1,6K
In July of 1999, the S&P's earnings yield was 3%. The 10-year bond at that time? Roughly 5%. Today the S&P earnings yield is ~2.6%. The 10-year bond? 1.1%. We are nowhere near as overvalued as we were in 1999.
While not being as overvalued as we were in 1999 is really not a hard bar to pass, I do think it is worth mentioning as the "gravity" of both situations are entirely different. So are we in a bubble as a whole market? Not really. Sure, we are overpriced by roughly 15-20%, (based on how I assess it) but if your outlook is beyond 10 years, it is very smart to continue to buy. And if the market dips? Buy your favorite companies at better prices. I'll close on this: if one could correctly time the market, they'd be a trillionaire. Buy VOO if you don't know how to value stocks, and if you do, shoot for a 5% yield as your cut-off, and you will do just fine over time.
122
258
Is your spouse your business partner?
Is your SO your business partner? If so, what agreements, boundaries, or rules have worked well to minimize conflict and why?
116
121
UK drinkers will be paying up to £1.50 extra a bottle on many European wines while choosing from a reduced range, as the burden of post-Brexit paperwork adds to costs, along with a rise in haulage prices https://t.co/zwsKBvLAPH https://t.co/OrUsueAcAT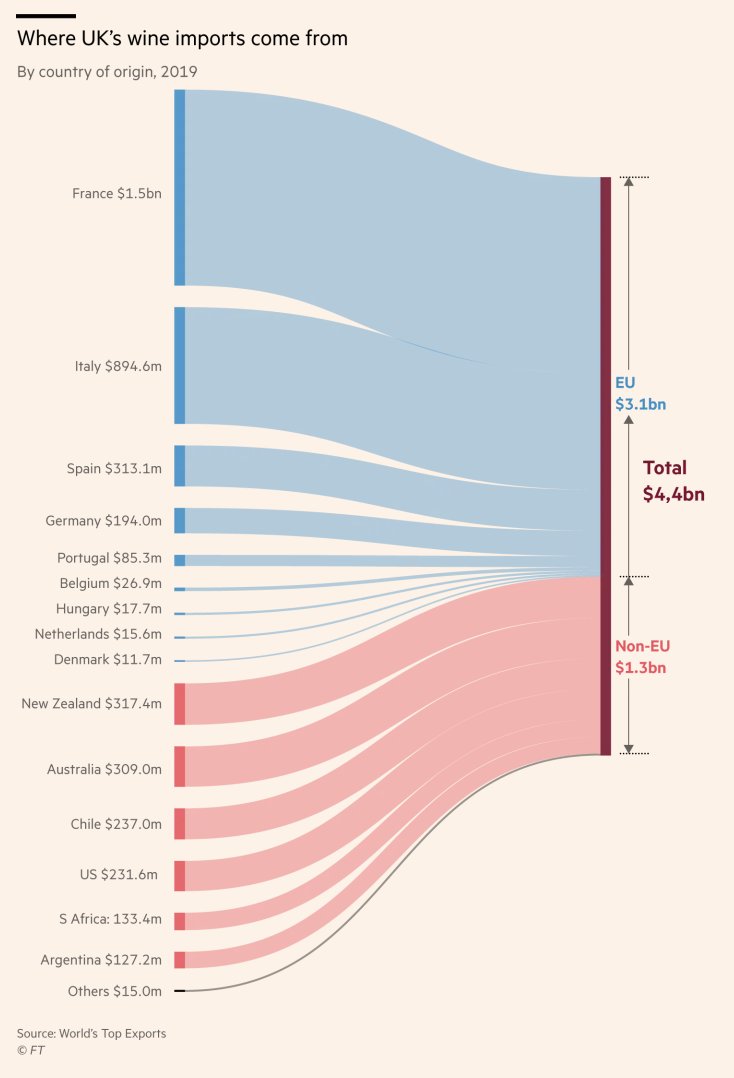 648
914
LATEST: Google threatens to disable its search engine in Australia if it's forced to pay local publishers for news https://t.co/o6Tnh9ZEQi
538
1,1K
Accomplished a once in a lifetime dream today, as I got to "Ring The Bell" at the NYSE this morning. So proud that @UWMlending is now officially a public company and trading under $UWMC. Thank you to all of our amazing broker partners and team members that made today possible. https://t.co/gkMOsWz7HY
77
653
183
406
The world's largest cryptocurrency fell below the key level of $30,000 after a furious rally over the past two months. The drop is "bad news in the near-term for Bitcoin and cryptos in general," said Craig Erlam, senior market analyst at Oanda Europe. The crypto boom has proved controversial, cheered by believers who see Bitcoin becoming a more mainstream investment, but decried by others who see little more than speculative mania. Click the link in our bio to read more.
683
23,8K
● Watch these companies in 2021. Link in bio to read about 50 more stocks you should be following this year.⠀ ⠀ ● The analysts at Bloomberg Intelligence—who track about 2,000 companies in fields including finance, retail, energy, and technology—have identified 50 worth watching carefully in the year ahead. When building the list, the analysts considered factors including company size and growth opportunities, management changes, scheduled releases of noteworthy products and services, and, of course, the impact of the Covid-19 pandemic and other sweeping economic forces.
470
23,7K
Elon Musk said he plans to donate $100 million toward a prize for the best carbon capture technology, weeks after he became the world's richest person. The 49-year-old, who's now worth over $200 billion, has done relatively little publicly in the way of charity. One of his first reactions on becoming the wealthiest human was to ask his Twitter followers how to give it away. His pick of carbon capture is in line with his other business interests, which largely focus on tech solutions to environmental problems. Link in bio for more. 📷: Maja Hitij/Getty Images
467
22,6K