GameStop (GME) halted at $72.80
Looks like the squeeze is really happening. Shout out to all the people in this sub that clowned me for having GME. Citron needs to investigated for possible collusion with firms for market manipulation. They did the same damn thing with PLTR. They find stocks with momentum and then send out a hit piece just so they can get a better price to buy in. Smh
1,9K
4,7K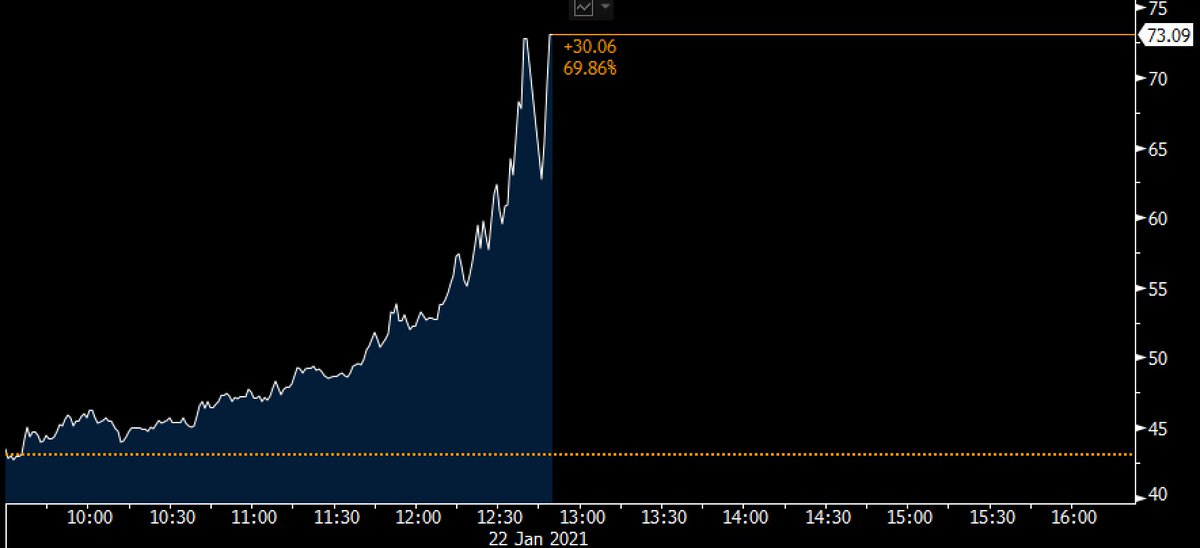 953
4,5K
A paralyzed mouse (L) and a formerly paralyzed one are seen in a lab at Ruhr University in Bochum, Germany, January 21, 2021. Researchers have enabled mice paralyzed after spinal cord injuries to walk again, re-establishing a neural link until now considered irreparable in mammals by using a designer protein injected into the brain. Researchers stimulated the paralyzed mice's nerve cells to regenerate with the hyper-interleukin-6 protein. Rodents that received the treatment started walking after two to three weeks, they said. 📷 Leon Kuegeler #science #mouse #reuters #reutersphotos
832
35,6K
"The reality of being a third country has come home to roost" Mairead McGuinness, European commissioner for financial services, warns "change is coming" for the City of London after Brexit, with no fixed timeline for a decision on equivalence https://t.co/y8In308x3j https://t.co/Z2qyWbsws7
716
1,4K
Elon Musk said he plans to donate $100 million towards a prize for the best carbon capture technology https://t.co/Ic0eFTf9sH
312
1,6K
In July of 1999, the S&P's earnings yield was 3%. The 10-year bond at that time? Roughly 5%. Today the S&P earnings yield is ~2.6%. The 10-year bond? 1.1%. We are nowhere near as overvalued as we were in 1999.
While not being as overvalued as we were in 1999 is really not a hard bar to pass, I do think it is worth mentioning as the "gravity" of both situations are entirely different. So are we in a bubble as a whole market? Not really. Sure, we are overpriced by roughly 15-20%, (based on how I assess it) but if your outlook is beyond 10 years, it is very smart to continue to buy. And if the market dips? Buy your favorite companies at better prices. I'll close on this: if one could correctly time the market, they'd be a trillionaire. Buy VOO if you don't know how to value stocks, and if you do, shoot for a 5% yield as your cut-off, and you will do just fine over time.
122
258
Is your spouse your business partner?
Is your SO your business partner? If so, what agreements, boundaries, or rules have worked well to minimize conflict and why?
116
121